About LOBECANDY
LOBECANDY MUSIC is an independent music imprint focusing on electronic and experimental music. At this time we are not accepting submissions from new artists but may be doing so in the near future, so bookmark this page!
History
My experience with music production goes back to the 1980s when I worked as a DJ and live sound engineer at university. As a singer/songwriter heavily influenced by acts like U2 and Bruce Cockburn, shortly after graduation the first home studio was built utilizing a Fostex 8 channel multi-track recorder on 1/4" tape. Several iterations followed, including 12-track analog AKAI MG1214 (designed by Walter Becker of Steely Dan). Bands were started, demo tapes were made, record deals pursued. In essence: Sound and Fury amounting to er, vast amounts of life experience!

After moving to California, LOBECANDY was first imagined as an indie record label supported by a 32-track all-digital recording studio in Solana Beach, based on the then-revolutionary Yamaha O2R digital mixing console and ADAT recorders. I closed this facility in the early 2000s continuing on with just a laptop and a collection of guitars. Later I divested of the guitars as well, focusing on pure creativity including extensive studies in film and television writing, directing and comedy. I have performed musical comedy shows at many venues in Hollywood while training with some of the world's best, including The Groundlings, Upright Citizens Brigade and The Second City & iO.

I have more than ten years experience apprenticing and working as a professional in the film and television industry in Los Angeles and am actively engaged in ongoing training in audio mastering and the vital role of sync in the entertainment business.

I have hands-on experience with almost every aspect of the television business including writing and pitching original television shows; writing, producing, directing, casting and directing original (comedy) web series; and designing bespoke audio/video F/X and compression tools. I am also well-versed in the business end of the "entertainment business" having previously trained and worked as a junior agent at a boutique firm in West Los Angeles.

In other words, I speak your language.

Currently I work with Apple Logic Pro X and Cubase/Wavelab utilizing modern synthesizers from MOOG (Subsequent 37, Matriarch and extensive Eurorack modular), Roland, Korg and Sequential/Oberheim.
Contact Us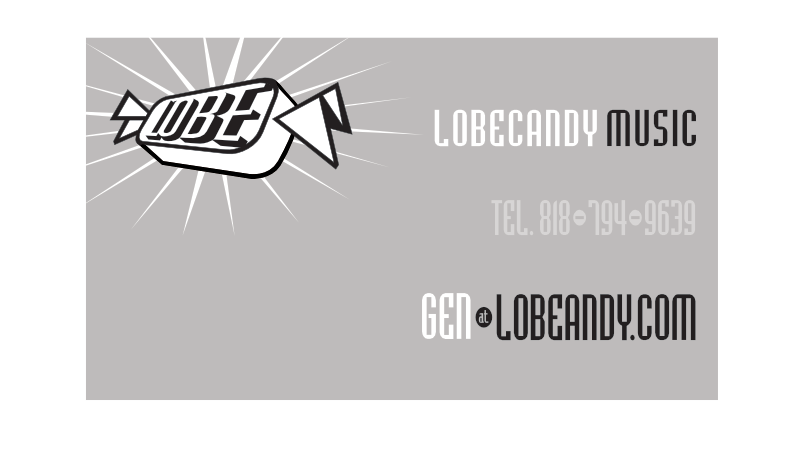 Terms of Use
The content on this website is subject to applicable international copyright laws.
Privacy
LOBECANDY MUSIC does not currently gather customer related data apart from tabulating website visitor counts and the internet referrer (source) of those incoming visitors.